May 6th, 2008
Reasons to Install FeedBurner
Sometimes, I am really curious whether there is anyone reading my blog. From Google Analytics, over 80% of the traffic came from search engines, mostly from Google. Am I really write for search engines only?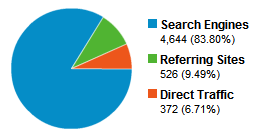 Since I share my full feed, there is no point for the readers (i.e. you) who read at RSS readers come to visit my site.
I think the best motivation for a blogger to continue writing is for him to know that he has followers. And, I don't get much comments on my blog.
Setting Up FeedBurner
Simple. Create an account at FeedBurner. Add in your current blog feed, then get a new feed link from FeedBurner. E.g. http://feeds.feedburner.com/enriiblog
Obstacles
I have been promoting the default WordPress RSS link all the while and I think I could have a few readers subscribed to my feed. I think it is not appropriate to ask everyone to switch to the new feed link provided by FeedBurner.
Moreover, if I ask you to use this new feed link so that I can track you, would you like use it? Nobody likes to be tracked.
The WordPress Plugin
To solve the problem, I installed the FeedBurner FeedSmith WordPress plugin (gbyeow suggested me to install this years ago, but I didn't do it until now). The plugin will automatically redirects your original feed link which looks like http://blog.enrii.com/rss/ to http://feeds.feedburner.com/enriiblog.
So, you will need to enter the FeedBurner feed link into: WordPress admin page > Settings > FeedBurner.
There are users reported some .htaccess issues in the older version. It seems like we no longer need to do anything with .htaccess with the latest version of FeedSmith.
OK, It's working now!
Now I know how many people subscribed to my feed.

What else could you achieve with FeedBurner?
Link to AdSense account - If you already have an AdSense account, adding ads into your feed can be done in a few clicks.
Email subscription - If you have readers who do not use any RSS readers, they could subscribe to my post via email.
Put subscriber's tag (FeedCount) - A small tag that you could put on your blog to show everyone that you have many subscribers.
Do you use it?
Just a note, if you are not aware, FeedBurner is now part of Google.
If my article helped you solved your problem, consider buy me a beer!

Share this article: del.icio.us | digg it
Tags: Adsense, FeedBurner, Google

Related posts: