April 19th, 2008
For Malaysian only: As far as I know, there's only one bank in Malaysia where we can collect our Western Union payment, the CIMB Bank. After I switch to Western Union cash as my Google AdSense payment method about 2 months ago, I finally got to collect my first payment.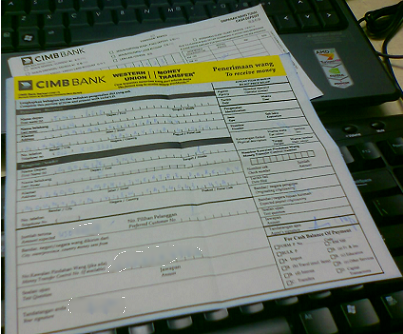 The collection process was really easy. It only takes 10 minutes. It would have taken more than a month if you were to wait for Google to deliver the cheque to you, and to wait for the cheque to clear.
What do you need?
CIMB Bank Western Union Money Transfer slip
CIMB Cash Deposit slip (if you want to deposit the money into your account)
Your Malaysian Identity Card
What information do you need to fill?
Your first and last name
Your address
Your phone number
Google's name (Google Inc.)
Google's address (1600 Amphitheatre Parkway, Mountain View, CA 94043, USA)
Payment amount
Money Transfer Control Number (MTCN)
You could get most of the information from payment history page in Google AdSense, except for your own details.
One problem with this payment method. There is no notification from Google when they issued the payment. That means, you will have to check the payment details from time to time to find out.
I believe many of you have enjoyed this facility. What do you think?
If my article helped you solved your problem, consider buy me a beer!

Share this article: del.icio.us | digg it
Related posts: