July 12th, 2006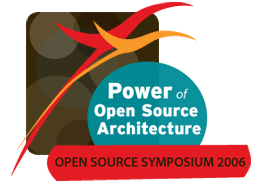 I received an invitation from HardwareZone to attend Open Source Symposium 2006 event organised by redhat. Here's the content of the email:
Experience the Power of Open Source Architecture

Feeling helpless and trapped with your existing proprietary platform and applications?

Held ransom by costly software upgrades?

Open source innovation is not a fad. It is here to stay. Enterprises around the world have migrated to Linux because they used to be as frustrated as you. Things happen for a reason. Especially good things. Isn't it time you make them happen?

Hear what Linux users have to say

The revolution of choice continues. Come August, Red Hat will kick off a series of open source symposiums across 14 cities in Asia Pacific. Rediscover choice in mission critical enterprise computing face-to-face with Linux communities, including developers and users, customers and industry watchers. This is where your doubts and the myths about open source will be debunked.

Spend a day with us and you'll see.
The details of the event in Kuala Lumpur is as follows:
Date: 6-7 September 2006 (Agenda)
Time: 9.00am - 5.30pm
Venue: Carlton Conference Centre
The Ritz -Carlton Kuala Lumpur Banquet Hall, Level 3
168 Jalan Imbi, Kuala Lumpur 55100, Malaysia
Developers: Do note that there's a session for you.
The registration is free for the first 50. So, be first to register!
Besides Kuala Lumpur, the event will also be held at other cities: Beijing, Seoul, Shanghai, Taipei, Guangzhou, Bangkok, Manila, Mumbai, Bangalore, Singapore, Sydney, Melbourne and Auckland.
Get more details from the official website of Open Source Symposium 2006.
If my article helped you solved your problem, consider buy me a beer!

Share this article: del.icio.us | digg it
Tags: Open Source Symposium 2006, redhat

Related posts: