May 12th, 2007
Living in my community, with a little knowledge about computers, I keep getting requests from friends or relatives to help on computer related matters. There is this relative who requested me to setup webcam and mic for Skype video conference. (A different case from the previous request to setup Skype)
Installing the webcam, with its driver, takes only a few minutes. Next, I proceed to install mic. Here are the steps to make sure that the mic is working:
Go to Control Panel, Sounds and Audio Devices.
Select Voice tab. Click 'Test hardware' button.
Follow the steps on screen.
As I test the mic, I can't hear my voice at all, unless I blow very hard towards the mic. Fiddling with the volume control does not help at all. Then, I found out that the microphone boost was not turn on. To turn it on:
In the Sound and Audio Devices control panel, go back to the first tab 'Volume'.
Click the 'Advanced...' button in the 'Device volume' box.
By default, Mic volume is not shown. Go to menu Options > Properties. Tick 'Mic volume' then click OK.
Go to menu Options > Advanced Controls to show 'Advanced' button below 'Mic volume'.
Tick 'Microphone Boost' then 'Close'.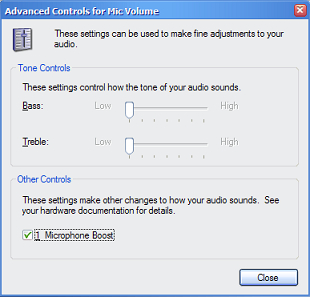 In normal case, you should be able to hear your mic working by now.
However, I'm not that lucky. I hear a very high pitch sound coming from the computer speaker once I click on the 'Microphone Boost'. I had to instantly untick it to keep my ear working. Search in the web did not help. I'm certainly not expert in this but finally I don't get the high pitch sound after I reduce bass volume of the speaker.
Then, retested the mic. Installed Skype. Done!
If my article helped you solved your problem, consider buy me a beer!

Share this article: del.icio.us | digg it
Related posts: