Wednesday, June 21st, 2006
Anyone notice the new click-to-play video advertisements from Google Adsense? I have not seen any yet. But I read it in "What's New - June 2006".
If you would like to enable video ads to be displayed on your website, do these:
Add in ads with any of these formats: Medium Rectangle (300 X 250), Large Rectangle (336 X 280), and Square (250 X 250)
Choose "Image ads only" or "Text and image ads" for that specific ad
Although you have it configured correctly, you probably won't be seeing them straight away. On this issue, Google (Help Center) has this to say:
Note that as there is currently limited video ad inventory, you may not notice any ads on your site for some time. As our inventory grows, you may begin to see video ads appear on your pages. In the meantime, we recommend opting in to both text and image ads for your ads units to ensure you're getting the ads that represent the maximum revenue potential for you.
Let me know how cool is it, if you have seen any. Google has them in their ads format page (scroll down).
Clicking on play button will show "buffering".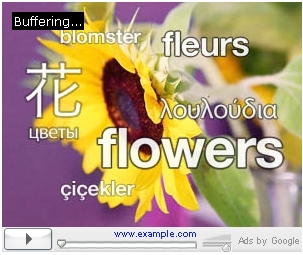 After buffering, the video will play.